We are more than glad to announce the launch of "MYS goes Green – The Magazine", our first editorial focused on the sustainable side of the yachting industry. 
The Magazine was born with the aim of increasing awareness on how essential it is to preserve and improve the environmental impact of navigation. MYS goes Green Magazine is part of a bigger project that puts sustanaibilitity at the heart of our behaviours, as we deeply believe we can all make a difference to preserve our planet and protect our seas.
The columns that follow one another in this editorial stimulate us to raise the question "Why change?" creating new habits, also thanks to knowledge of new products and technical innovations on the market to get involved firsthand from the little big things that each of us can do on board
and during navigation.
We can rethink our holidays, without giving up the wonders that the sea can give us with destinations and experiences to be lived. We will discover the increasingly ecological innovations that concern Super Yachts and we will collect the latest news in terms of events and media that can support us in this new journey.
And finally….you'll find some interesting "Stories of the Sea" where we will share some of the most significant stories that have been part of this always exciting journey, from our closest friends, clients and suppliers.
This is only a beginning: when the direction is the right one, the wind will help us navigate safely
towards the goal.
Enjoy the reading!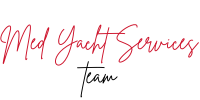 Download your free PDF of the Magazine